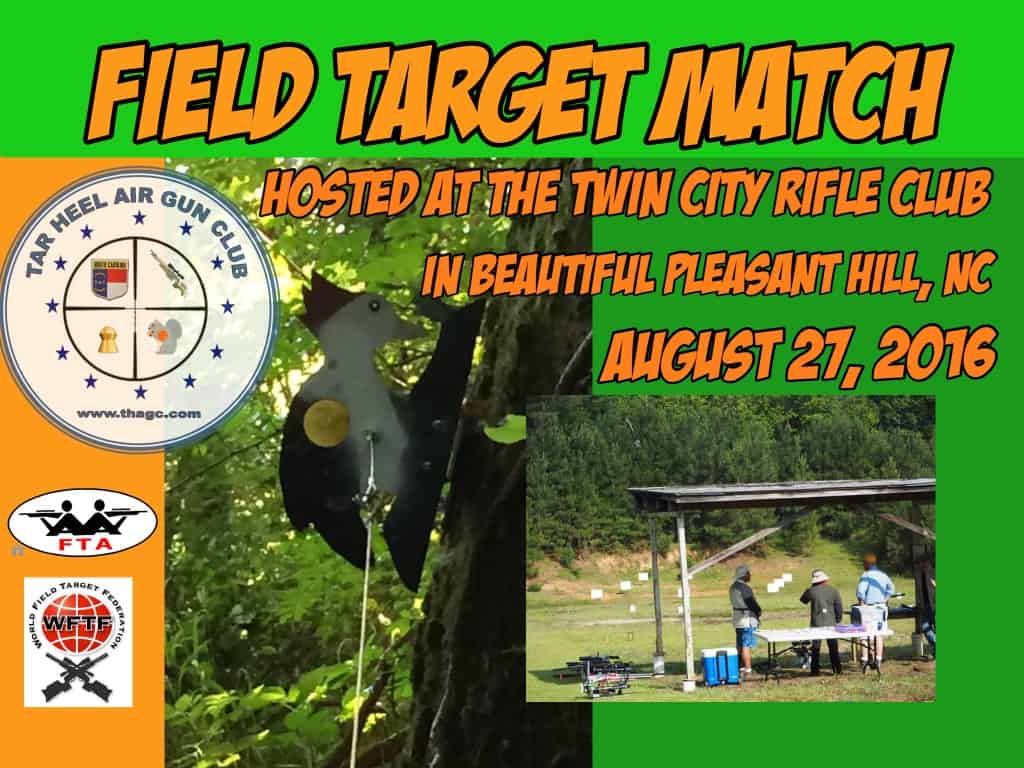 Registration:  The sight-in area will open at 7:00 am Rifle match begins at 9 a.m. Club member $10 registration.  Non-club members $15 (membership has its privileges!).    Join THAGC here .
**PLEASE NOTE:  DO TO THE HEAT WE WILL NOT HAVE A PISTOL SHOOT AT THIS MATCH.
WE WILL TRY TO START THE MATCH A LITTLE EARLIER THAN 9:00 IF EVERYONE IS READY!
Registration page is HERE.
Location: 734 Jack Swamp Rd Pleasant Hill, NC 27866
Remember the THAGC will be trying out an Unlimited Class.  Click here for the gear matrix.
Divisions: Open, Hunter, WFTF and the all new Unlimited Class.
Shots:  60 shot match. 34.8 Troyer
Field Target Match August 27, 2016 attendees
| First Name | Last Name | Rifle (make and model) | Pellet (manufacturer and weight) | Scope (manufacturer, model, and power) | Class (open, hunter, WFTF, Unlimited) | PCP or Piston? |
| --- | --- | --- | --- | --- | --- | --- |
| Mark | LaPointe | Steyr | JSB Exacts 8.44 | Sightron 10-50 | WFTF | PCP |
| Chris | Corey | Steyr LG110 | AA 10.34 gr. | March X 8-80 | Open | PCP |
| Curt | Hathaway | HW97 | JSB 10.34 | Hawke Sidewinder 3-12 X 50 | Hunter | Piston |
| Keith | Knoblauch | Steyr LG 110 FT | JSB Express | Leupold 35 Competition | WFTF | PCP |
| William | Piatt | Steyr LG110 | AA 10.3 | Sightron | Open | PCP |
| Paul | Porch | Steyr LG110 FT | JSB 10.34 heavy | Sightron 10-50-60 | Open | PCP |
| Eric | Smith | Mac1 USFT | JSB 10.34 | Sightron 10-50x60 | Open | PCP |
| Nick | Smith | Air Arms S500 | JSB 10.34 | Hawke Sidewinder 3-12x50 | Hunter | PCP |
| Ed | Canoles | HW95 | CPL 7.9 | Optisan Viper 3-12 | Hunter | Piston |
| Joe | Magarelli | Weihrauch HW97 | H&N 8.64 | Optisan Viper 3-12 | Hunter | Piston |
| Philip | Hepler | Gamo Silent Cat 1250 | Crosman Premier 7.9 gr | Hammers 4-12 | Hunter | Piston |
| Ammon | Piatt | Evanix Custom | AA 10.3 | Sightron 1050 | Hunter | PCP |
| Daniel | Rodriguez | Air Arm MPR FT | JSB 8.4 | Sightron 10-50x60 | WFTF | PCP |