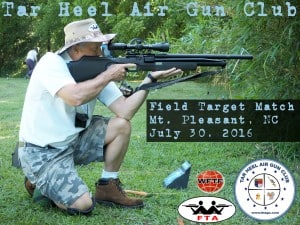 Thanks to all 18 shooters coming out and braving the heat. It seems like here lately all matches have had weather extremes. Great job to John Ford for winning pistol and also match high score in hunter pcp. Next in hunter was Rodney Allen and then Sue Smith in third, which her scores are climbing fast. Also great job to Chris Corey and Eric Smith for a tie in open class with a 50. Chris Corey won the shoot off for first place. Joe Magarelli posted a great score of 47 to win hunter piston and Joe continues to shoot really well with his hw97!
Pistol troyer 35.5
Rifle troyer 30.7
Pistol match was 4 lanes and a 20 shot match.
Rifle match was 15 lanes and a 60 shot match.