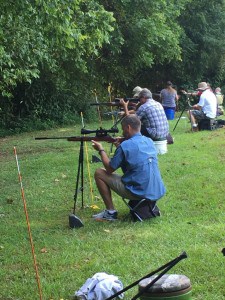 Date:10-21-17.   The registration and sight-in area will open at 9:00 a.m. The Field Target Rifle Match begins at 10:00 a.m.  
$10 registration.  Pre-register here.
If you want to borrow one of the two loaner rifles (Hunter PCP) available for the event email scott@thagc.com
The shoot registration does not cover the air gun show…. there is a separate $5 entrance fee for the air gun show.  Show info here.
Location:   Hickory American Legion Fairgrounds 1 American Legion Avenue, Newton, NC 28658
Rules:   The American Field Target Association rules will be followed for Open, Hunter and WFTF. We will shoot AAFTA Rules with this match. The 2017 rules are here.
Divisions: Open, Hunter, WFTF and the  Unlimited Class. Click here for the gear matrix.   If you have questions email scott@thagc.com
NC Air Gun Show - Field Target Match 10-21-17 Hickory, NC attendees
| First Name | Last Name | Class (open, hunter, WFTF, Unlimited) | PCP or Piston? |
| --- | --- | --- | --- |
| Scott | Allen | Open | PCP |
| Raymond | Hawkins | Open | PCP |
| Curt | Hathaway | WFTF | Piston |
| Spike | Bachman | Hunter | Piston |
| Jimmy | Fussell | Unlimited | PCP |
| William | Piatt | Open | PCP |
| Philip "Dead Eye" | Hepler | Hunter | PCP |
| Dan | Robertson | Hunter | Piston |
| Joey "You talkin to me!?" | Mags | Hunter | PCP |
| Paul | Porch | Open | PCP |
| Chris | Corey | WFTF | PCP |
| Susan | Smith | Unlimited | PCP |
| Ed | Canoles | Hunter | Piston |
| Mark | Cimijotti | Hunter | Piston |
| Tim | Fahning | Hunter | PCP |
| Wes | Davis | Open | Piston |