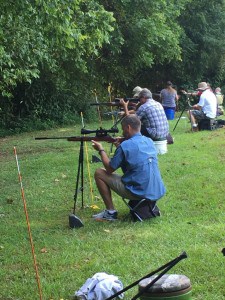 November 18th – Twin City Rifle Club in Pleasant Hill, NC
Range opens @ 
8:00AM
, Match @ 
10:00AM
Special shooting rules: 25 Lanes, 2 Targets per lane, 1 shot per target for a 50 shot match
Timers will be used : 3 minutes per lane
Course is set up per WFTF rules but you will shoot your selected AAFTA division with those regular rules.
There was no Troyer factoring used. Targets were set to meters in lieu of yards. Max distances for KZ's were determined by WFTF rules. Kill Zones used 15mm(1/2″) 25mm( 1″) 40mm(1 1/2″)
Minimum reduced Kill Zones ( 12 max per rules) reduced KZ's are 1/2″ & 1″. Remaining targets will be 1 1/2″ KZ's
We will shoot the max ( 10 shots) Positional shots : 6 shots Standing / 4 shots kneeling.
There are no rifle rests at the standing lanes.
Targets are numbered 1-50. Targets will be shot in NUMERICAL ORDER. If shot out of order, it is counted as a MISS.
Target faceplates will be painted solid colors ( Yellow, Black, White, Blue)
All AAFTA classes can compete per their class rules ( WFTF, Open, Hunter, Unlimited ).
Euro Match registration 11-18-17 attendees
| First Name | Rifle (make and model) | Class (open, hunter, WFTF, Unlimited) | PCP or Piston? |
| --- | --- | --- | --- |
| Scott | Thomas | Open | PCP |
| Curt | HW97 | WFTF | Piston |
| Jimmy | Thomas | Unlimited | PCP |
| Chris | Steyr Challenge FT | WFTF | PCP |
| Joe | Weihrauch HW-100 | Hunter | PCP |
| Robert | RN-10 air arms | Open | PCP |
| PHILIP | BENJAMIN MARAUDER | Hunter | PCP |
| Keith | Steyr LG 110 FT | WFTF | PCP |
| John | FX Independence | Hunter | PCP |
| Michael | HW97 | Hunter | Piston |
| Ken | Steyr LG110 | WFTF | PCP |
| Robert | Styer lg110 ft | WFTF | PCP |
| Will | Steyr LG110 | Open | PCP |
| Paul | Styer LG110 | Open | PCP |
| Ron | Steyr LG 110 | WFTF | PCP |
| Don | Thomas FT | WFTF | PCP |