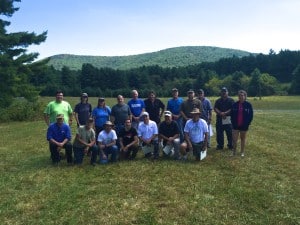 Tar Heel Air Gun Club registration  fees goes to defray the costs of insurance which is approximately $800 per year as well as the cost of the web space for this site.
Registered members pay $10 for regular matches rather than $15.00 (sometimes we have higher or different prices if, for example, lunch is included).  We also have a members-only email list that you will be subscribed to.
Members also get polled and feedback is sought related to the club's vote on issues submitted or before AAFTA related to rules and bylaws.
THAGC has no by-laws.  However, there are officers and an effort by all involved to be inclusive and open to those who want to participate and help grow the sport of field target.  Registration is per calendar year.
Please take the time to review the AAFTA rules found on a link on the first page of www.thagc.com and the safety and etiquette rules in the rulebook.
Registration means you accept all that.
NOTE: Due to temporary website management issues registration fees have to be paid by check OR Paypal to Chris Corey using THAGCFT@gmail.com. Both cases will show up on the form as Pay by Check to THAGC.
Prices
| | |
| --- | --- |
| 2020 THAGC membership | $25.00 |