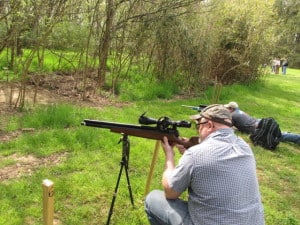 Date: May 4, 2014.  This is  a Sunday.   We apologize in advance for this, we know how important Sundays are.
Registration:  9:30am.   The sight-in area will open at 9:30 a.m. and the shoot will begin around 10:30 a.m.  Setup will begin around 9:00am for those that can be there.  Please also help with take-down at the conclusion.  The $10 registration is payable at the match or when you register.
PRE-REGISTER HERE.  Why pre-register?  It helps us be more efficient on the morning of the match and it helps us know how to contact you if there is a weather-related issue that forces us to postpone the event.  If you register and can't come that's fine… just send an email to scott@thagc.com  If you paid via paypal and can't come we can refund your registration or you can apply it to a future match.
Location:  2830 Alish Trail, Mount Pleasant, NC 28124
Rules:   The American Field Target Association rules will be followed. Rules are available for download.  We will be keeping track of face plate hits as well.
Divisions: Open, Hunter and WFTF.    Additional divisions and fun shoot options based on attendance and interest.
Shots:  15 lanes, 2 targets per lane, 2 shots per target.
Lunch:   We may all head up to Buddy's Place (a nearby restaurant) after we help Chris take down the targets.
Dates
Undefined table data
Prices
| | |
| --- | --- |
| Match and Fun Shoot | $10.00 |
Location
Mount Pleasant, NC
2830 Alish Trail
Mount Pleasant NC 28124