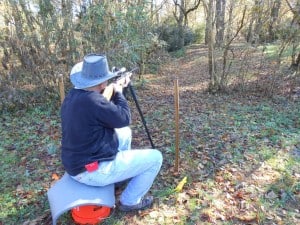 Date: April 5, 2013
Location:  2830 Alish Trail, Mount Pleasant, NC 28124
Registration:  9:30am.   The sight-in area will open at 9:30 a.m. and the shoot will begin around 10:30 a.m.  Setup will begin around 9:00am for those that can be there.  Please also help with take-down at the conclusion.
The $10 registration is payable at the match or when you register.
PLEASE USE THIS FORM TO REGISTER.  It will save time the morning of the match and allow us to have an idea of how many will be there.   It will also allow us to connect with and contact everyone immediately if there is a change in schedule.  If you pre-register and do not end up coming for any reason that is fine, just email me and I can refund your payment or you can apply it to the next match.
Rules:   The American Field Target Association rules will be followed.  Rules are available for download.  We will be keeping track of face plate hits as well.
Divisions: Open, Hunter and WFTF.    Additional divisions and fun shoot options based on attendance and interest.  Ed may try something new with the hunter springer class for those that want to try it.  Bring your air pistol too and maybe we could do a pistol match at the end.
Shots:  15 lanes, 2 targets per lane, 2 shots per target.
Waiver and Safety:  There is a mandatory safety meeting.  All attendees (whether shooting or spectating) are required to read, sign and comply  the THAGC release/waiver on the day of the event.  Here it is: THAGC release
Lunch:   We may all head up to Buddy's Place (a nearby restaurant) after we help Chris take down the targets.
Dates
Undefined table data
Location
Mount Pleasant, NC
2830 Alish Trail
Mount Pleasant NC 28124