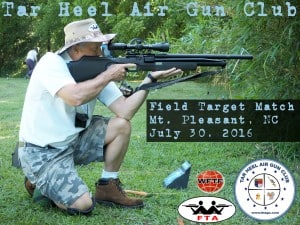 Date: July 30, 2016.
Registration:  The sight-in area will open at 7:00 a.m. Pistol shoot will begin 8:00 a.m. The Field Target Rifle Match begins at 9:30 a.m.
$10 registration.  Non-club members $15 (membership has its privileges!).    Join THAGC here .
Why pre-register?  It helps us be more efficient on the morning of the match and it helps us know how to contact you if there is a weather-related issue that forces us to postpone the event.  If you register and can't come that's fine… just send an email to scott@thagc.com  If you paid via paypal and can't come we can refund your registration or you can apply it to a future match.
Location:  2830 Alish Trail, Mount Pleasant, NC 28124
Rules:   The American Field Target Association rules will be followed for Open, Hunter and WFTF. We will shoot AAFTA Rules with this match. The 2016 rules are here.
Remember the THAGC will be trying out an Unlimited Class.  Click here for the gear matrix.
Divisions: Open, Hunter, WFTF and the all new Unlimited Class.
Shots:  60 shot match.
Dates
Undefined table data
Prices
| | |
| --- | --- |
| Member | $10.00 |
| Non-Member | $15.00 |
Location
Mount Pleasant, NC
2830 Alish Trail
Mount Pleasant NC 28124