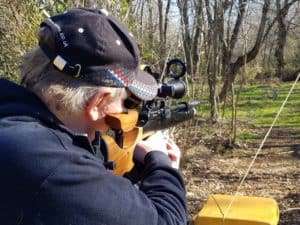 Date: March 25th, 2017.
Registration:  The registration and sight-in area will open at 7:30 a.m. Pistol shoot will begin 8:30 a.m. The Field Target Rifle Match begins at 10:00 a.m. 15 lanes 4 shots per lane (timers will be used). 
$10 registration.  Non-club members $15 (membership has its privileges!).
Register HERE.
Why pre-register?  It helps us be more efficient on the morning of the match and it helps us know how to contact you if there is a weather-related issue that forces us to postpone the event.  If you register and can't come that's fine… just send an email to scott@thagc.com  If you paid via paypal and can't come we can refund your registration or you can apply it to a future match.
Location: Alish Trail, Mount Pleasant NC
Remember the THAGC will be trying out an Unlimited Class.  Click here for the gear matrix.
Rules:   The American Field Target Association rules will be followed for Open, Hunter and WFTF. We will shoot AAFTA Rules with this match. The 2017 rules are here.
Remember the THAGC hast an Unlimited Class.  Click here for the link to the gear matrix for anyone who has not seen it yet.
Divisions: Open, Hunter, WFTF and the Unlimited Class.
Match Details,
Rifle and/or Pistol
2 targets per lane
2 shot per sarget
15 lanes
60 shot match.
March Club Shoot (Mar 25th - Mount Pleasant) attendees
First Name
Last Name
Rifle (make and model)
Scope (manufacturer, model, and power)
Class (Open, Hunter, WFTF, Unlimited)
PCP or Piston?
Attendees: 1
Curt
Hathaway
HW 97
Hawke Sidewinder 3-12 x 50
Hunter
Piston
Attendees: 1
Scott
Allen
Thomas FT
March 80
Open
PCP
Attendees: 1
Raymond
Hawkins
Benjamin Marauder
Hawke 8-32
Hunter
PCP
Attendees: 1
Chris
Berry
Thomas ft
Sightron 10-50x60
Open
Piston
Attendees: 2
Michael
Finchum
HW97
Optisan Viper 3X12
Hunter
Piston
Attendees: 1
Chris
Corey
Steyr LG110
March X 8-80
Open
PCP
Attendees: 1
Ed
Canoles
HW95
Hawke Airmax 4-12
Hunter
Piston
Attendees: 1
Will
Piatt
Steyr LG110
Sightron 1050FT
Open
PCP
Attendees: 1
Chip
Hunnicutt
Benjamin Marauder
Leupold VX-3
7UT84J
PCP
Attendees: 1
Ron
Birnbaum
Walther LGV
UTG 3-12
Hunter
Piston
Attendees: 1
Eric
Smith
Mac1 USFT
Sightron 10-50x60
Open
PCP
Attendees: 2
Philip
Hepler
Benjamin Marauder
UTG Accushot 3-12
Hunter
PCP
Attendees: 1
Tim
Fahning
Benjamin Marauder (club gun)
Center Point 4-12
Hunter
PCP
Attendees: 1
Michael
Johnson
Webley Raider
Sightron SIH412x40FTMD 4-12x
Hunter
PCP
Attendees: 1
Paul
Porch
Steyer LG 110 FT
Sightron SIII 10-50x60
Open
PCP
Attendees: 1
David
Clark
Air Arms FTP 900
Hawke 8-32
Hunter
PCP
Attendees: 1
John
Ford
FX Independence
Center Point 4-16
Hunter
PCP
Attendees: 1
Don
Armstrong
RAW HM1000
Leupold 35X Comp.
Open
PCP
Attendees: 1
ammon
piatt
Evanics
March
Hunter
PCP
Attendees: 1
noah
piatt
Custom Piatt
Hawke
Hunter
PCP
Attendees: 1
Susan
Smith
Hatsan AT-44W
Optisan Mamba 4-16
Hunter
PCP
Attendees: 1
Ben
Smith
Hatsan AT-QE
Optisan Viper 6-24
Hunter
PCP
Attendees: 1
Artie
Claudino
Hstsan at54
AZTEC 4.5-25X50
Hunter
PCP
Attendees: 1
Gerald
Long
Steyr LG110
Sightron SIII 10-50
WFTF
PCP
Dates
Undefined table data
Prices
| | |
| --- | --- |
| Member | $10.00 |
| Non-Member | $15.00 |
| Donation | $5.00 |