Date: December 10, 2016.
Registration:  The sight-in area will open at 8:00 a.m.  The Field Target Rifle Match begins at 10:00 a.m.
$10 registration.  Non-club members $15 (membership has its privileges!).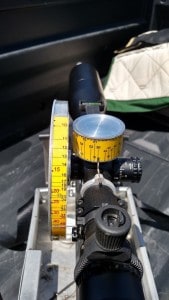 Why pre-register?  It helps us be more efficient on the morning of the match and it helps us know how to contact you if there is a weather-related issue that forces us to postpone the event.  If you register and can't come that's fine… just send an email to scott@thagc.com  If you paid via paypal and can't come we can refund your registration or you can apply it to a future match.
Location:  734 Jack Swamp Rd Pleasant Hill, NC 27866
Rules:   The American Field Target Association rules will be followed for Open, Hunter and WFTF. We will shoot AAFTA Rules with this match. The 2016 rules are here.
Remember the THAGC will be trying out an Unlimited Class.  Click here for the link to the gear matrix for anyone who has not seen it yet.
Divisions: Open, Hunter, WFTF and the all new Unlimited Class.
Match Details,
 2 targets per lane
1 shot per sarget
25 lanes
50 shot match.