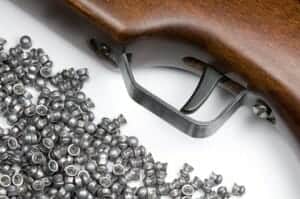 It's time to bring air rifle field taget to North Carolina!
We will use the rules /handbook set out by the AAFTA found here.  THAGC is an AAFTA member club.
Depending on interest and the types of air guns of club members and guests, additional classes may be added to assure everyone get to shoot and have fun.
Field target is a fun sport and the point is simple: successfully hit a target and score a point… the shooter with the most points at the end of the match wins.
The targets are usually small animal-shaped silhouettes with a hole in the approximate kill-zone.  The hole has a paddle assembly in it it which, when hit by an accurate shot, causes the paddle to swing forward and the target to fall.    Shooting lanes are set up with one to several targets at random distances from 10 to 55 yards.  Firing positions in each lane might be designated or you might be able to chose your firing position.  Your challenge will be to estimate the distance, hold steady, fire the shot and take down your target.  To add to the challenge, the size of the kill-zone on each target may be different.