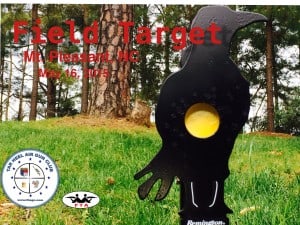 We had a great turnout for the May match. The temperature was is the 80's with the humidity staying low. Chris B. hosted the match and set up a fantastic course. Everyone seemed to agree that the difficulty of the course was a little more challenging. Thanks to Joe M. who helped officiate the match and keeping the scoreboard up to date.  The June match dates will be announced soon. Hope to see everyone there!
Hunter PCP
44 Jimmy F.
32 Sue S.
29 Paul P.
18 Ben S. (Junior)
8 Mike P. (New Shooter)
Hunter Piston
35 Joe M.
34 Ed C.
21 Eric G.
20 Tom M.
19 Dwight M.
17 Rodney A.
** Mike F. (did not finish)
Open
45 Will P.
42 Chris C.
** Scott A.  (did not finish)
WFTF
43 Chris B.
23 Mark L.